Is it too easy to blame Generation Y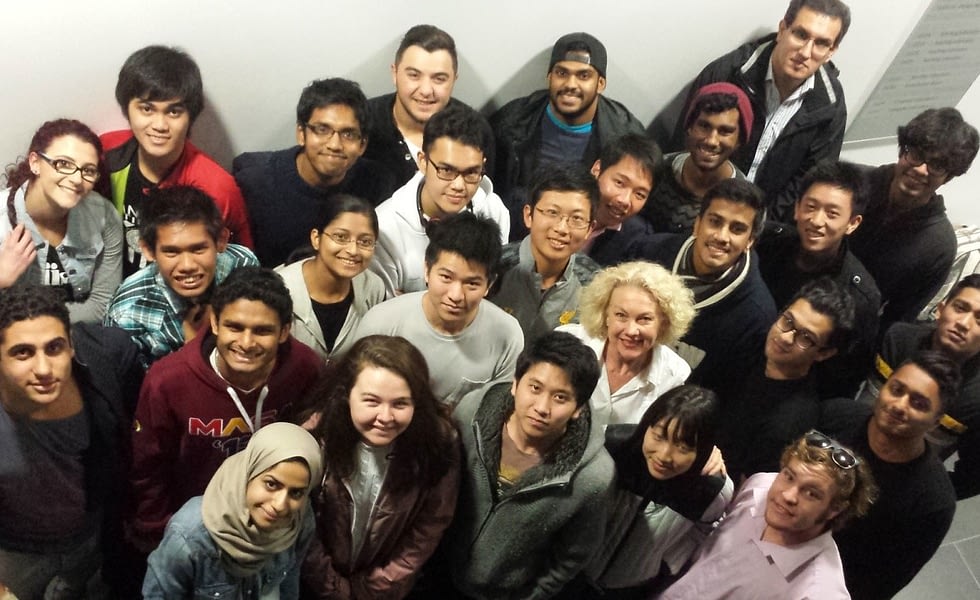 Is it too easy to blame Generation Y?
Perhaps. Here's why.
A Younger Generation engaging their Essence, saving us from our Ego!
Boy 16 knifes and kills 17 year old on train.
Hoons goad police with vanity videos.
Female party goers increase drug abuse.
It's all too easy to blanket or taint our perception of young people with the sensational headlines describing the few. It's also a sad reflection that we are more prepared to subsidise headlines like those above, rather than give priority, attention and acclaim for titles such as:
Proud son declares, 'I hope to be half the man of my dad!'
Male student waits outside local pub to offer safe lift home
Female student tells of our often forgotten
Compassion – Uni Dorm Style
To some, these titles may not seem that exciting. For others, they are profound. Think about the threats of the world in which we live. Each title reflects what the following stories reveal. Thankfully, optimistic stories like these are more a reflection of humanity than the sad attention grabbing headlines to which we are all too accustomed.
If you wish to be inspired and have your faith in our generation Y renewed, read on.
Background : The highlight of my professional calendar each year is my involvement as guest lecturer at the University of New South Wales. My subject is Business Communication; my faculty is the School of Petroleum Engineering.
Each year the students impress me, lift my spirits.  They act as an indelible reminder of the privilege to work with high calibre young people.  They are all smart, very smart.  They take their studies seriously, some very seriously. Their first jobs are usually with prestigious oil companies from around the world on advantaged graduate programs.
Life doesn't begin or end there, I liberally espouse in my lectures.
Smarts get you a job.
Relationships make your career.
In light of this and mounting publicity in the press about our young people, I designed an atypical assignment to prove my point. It seems our defiantly task driven, scientifically minded, no nonsense engineering students were well up to the task.
This assignment was designed to have the students reflect and focus on others with whom they will be working in their careers. It was planned in two parts for strategic reasons. Hold in mind, these are budding petroleum engineers, not students from the arts or psychology faculties. They were asked to first write about treating themselves to something enjoyable: perhaps a long lunch with friends followed by a lovely beach walk or catching up with old mates, watching the footy and sharing a beer. The activity did not have to be expensive or fancy. They were to write about what they chose, why they selected it and how it affected them.
Juxtaposed was the second part of their brief. The students were then invited to write about something they did for someone else. Again, it did not have to be costly or grand in scale. Perhaps simply shouting a colleague an unexpected cup of coffee, or waiting to help someone with a heavy load onto a bus. No further suggestions were made. I was conscious not to front load potential learnings.
The quality of the resulting work was exceptional. Some made me smile, others brought tears to my eyes.
They 'got it'. Some really 'got it'.
Doing something for another person is a more sustainable pleasure
than merely focusing on ourselves.
Be inspired by the genuine and profound learnings with which this selection has been written. Each piece is included with the kind permission of each author.
Doing Something for My Dad. Nick Chouinard, a student from Canada.
"Spending time with my dad is something he enjoys very much.
My grandfather wasn't of ideal parenting quality. My dad knew this from an early age so he made a pact with himself that he would not be like his father. I can remember when I was a little boy on the farm helping dad with odds and ends, hearing him say that the time I got to spend working with him may become some of my most treasured memories. He was right.
My dad always said that farm kids were very fortunate since many children never get the opportunity to work with either of their parents. He never mentioned that he was instilling in me the value of a hard day's work and what is truly important in life.
At the time, I didn't always appreciate what was really going on. Growing up on a farm means that you don't always get to hang out with your friends doing "Town Kid Stuff". I was so envious of those Town Kids. In retrospect, I realise that I didn't lose anything. In fact, I was ahead of most of those kids in many aspects of life.
Now that I am a little older, I can see that throughout my entire childhood, my dad made a point to spend as much time as possible with his children. So, whenever I get the opportunity to just shoot the breeze with my dad, I take it. In my opinion, he gave me the best of himself. I hope I turn out to be half the man he is."
Recall this title? 'Proud son declares, 'I hope to be half the man as my dad!'
Something Selfless I Do For Others.
Aaron Walsh.
"Driving people home after a night at the pub is something that I have done many times and will certainly do again in the future. During the summer break, I work in an RSL club in a town about half an hour's drive from my township. My shifts are often Friday and Saturday nights finishing roughly at about 1.00am. This is the time when friends need to get home after they have been drinking at the pub. So I drive around outside the pub and see who needs a lift.
It is difficult to explain why I do this. Often after a six hour shift, all I want to do is get home to sleep. And usually the people I drive home are loud and obnoxious. Concentration on the road ahead is not always easy with drunks on my backseat and the likelihood of someone being sick in my car. Yet despite all of this, I still enjoy doing it.
I enjoy helping out my friends who would otherwise have to pay a hefty cab fare, walk the distance or, worse still, drive themselves home. People often see my behaviour as quite strange. It's a valid position. In essence, I get satisfaction knowing my friends have had a good night out as well as arrive home cheaply and more importantly, safely."
Recall this title? 'Male student waits outside local pub to see who needs a lift home, safely.'
For Someone Else. Sarah Loh.
"I work for a non-profit organisation, Just Enough Faith, who aim to give hope to the hopeless, a voice to the voiceless and choices to those who have none. I have been a volunteer for over a year, helping in the preparation and serving of hot food from a food van to the homeless in the Sydney CBD at night. I contribute in giving those who have no one, someone with whom to speak and most importantly, listen. My association with the organisation was part of an effort to broaden my horizons and expose myself to new and different things. I have certainly achieved those goals and much more. My perceptions of the less fortunate have been transformed, my levels of compassion increased, my respect for human resilience deepened.
Talking to some of the homeless makes me profoundly sad to hear the tales of misfortune and tragedy, but it gives me hope because the voices that speak to me brim with optimism with few traces of bitterness for the hand that life has dealt. I meet a myriad of personalities at the food vans, each with their own quirks that I endeavour to accommodate and that which, eventually, becomes endearing. For example, there is Johnny, who only ever wants the garnish from the dishes and will not eat rice unless it is fried or golden in colour.
What they all have, though, is an almost painful amount of gratitude for the help they are being offered. To be thanked for a conversation is one of the most heart-wrenching things I have ever felt. At the end of the evening, I know who has gained most from the relationship. I may have served them food to feed their bodies, but they have given me an education I could not have found anywhere else. They have provided me with an appreciation of all that I have as well as the inspiration to continuously better myself, but never to forget those who are so often forgotten."
Recall this title? ''Female university student tells of the often forgotten."
Closed Eyes.
Hajah Salwa Khair POKMS Haji Md Tarif
Sshhh… Don't make a sound.
A long day she has had.
Let her sleep, let her rest…This time around
Walk slowly, talk quietly, no noise…Not even a tad.
Just for her she hears it….
Knock, knock… Wake up there…
It is now late…
I would let you sleep I swear,
But you have errands to run dear housemate!
This is what I do…
I consent and I interrupt,
Not for me but for you…
Sincerely from the heart…
Recall the title? 'Compassion – Uni Dorm Style'
Perhaps now you, too, have been touched by the heart, the depth and the maturity reflected in each story.

These students discovered they are part of a tribe.A worldly tribe willing to extend their outstretched hand. A hand that may make the life of another a little calmer, richer in spirit, more comforting or notably, safer. In a world inundated with selfishness, separation, fear, lapses of control and loss of dignity, these stories restore faith.
To honour some of my students, other parts of the assignment are included.
'Something I do for Myself.'
The pieces that follow are contributions from the portion of the assignment dedicated to exploring treating themselves to something just for them.
So Neat; A Sonnet. By Hajah Salwa Khair POKMS Haji Md Tarif
When life seems to be upside down
And when I cannot properly think
And when I lose something
And when the littlest thing paints my frown;
I'll put things back in their place,
Clean anything with dust and stain,
Arrange from big to small whatever is in the bookcase,
It's weird but rest assured I am still sane.
Or when there's nothing to do
Or simply when the mood comes in.
No one but you have a clue,
This habit that I hide within.
Get organised and cleaning up is what I do
And I am happy when things are nice to view!
Restoring Calm. By Katharine Lam.
Sometimes I feel that the routines of my everyday life cause me to develop an unbalanced view of life. I place high priority in doing well academically, so it can seem as if I'm just mindlessly chasing deadlines and results. I'm constantly surrounded by people, but because I'm so focussed on work, our interactions become superficial. At times like these, I feel overwhelmed and stressed. So I find a place where I can just be by myself for a while and clear my mind.
My favourite place to be is the beach on a sunny day. I find myself a quiet spot and try not to think about anything but what I'm experiencing right then and there. It's very difficult to describe what I am feeling during this time. As I savour the sun's warmth, smell the ocean's scent and hear the waves rushing onto the shore, everything just seems to slow down. Silly as it sounds, it's as if all the suffocating emotions I was wrestling with are carried away with the waves.
Taking this time out for myself really calms me down. It helps to remind me there is so much in life that we can appreciate, even simple things like going to the beach or the park and enjoying the beauty of the natural world. It motivates me to take part in more activities and to meet and really get to know other people. Getting good marks is important, but balance is essential.
My Love of Dirt Bikes. By Nick Chouinard.
Riding fast in the dirt is without a doubt one of the most exhilarating activities. I enjoy dirt bikes through all five senses. The obnoxious sound of a dirt bike flows like the sound of a Steinway grand piano. The sight of a dirt bike resembles a great work of art. The smell of hot engines and burned racing fuel is better than the finest perfume. The taste of dirt being flung into your face from the riders ahead of you is better than a $90 steak. Feeling the vibrations of the engine makes the hairs on the back of my neck stand straight up. The sight of the machine that brings you all of this is unmatched in all respects. I love riding dirt bikes.
Riding brings me peace. After you've warmed up, hit the track and gotten off a couple of laps is when the real joy comes into view. When the bike and you are working just the way you want them to work together, nothing can phase you. You become so "In the zone" that you don't realize what is going on off the track. The only thing that matters is that you are riding for the sake of riding.
Watching professional riders performing at their maximum is awe inspiring. They move with the bike in a very specific manner. After a day at the races you head home to redesign and beef-up your own track with the hope of being able to move with your bike the way professionals do. Spending an entire childhood reading the magazines and watching the videos and races of any sport will develop a deep driving desire to one day be in the magazines, videos and races. Each day you push yourself harder and harder honing your skills to be as close to professional as your abilities will allow.
Studying a professional's form and technique and applying those same skills to your own riding is not an easy task though. It takes countless hours and probably a few crashes before you get it right. Once you get it though, you suddenly find yourself in a place of pure ecstasy. The overwhelming feeling of accomplishment pulses through every fibre of your being. A smile stretches from one ear to the other. Pure, unadulterated, joyous, bliss.
My Passion for Dance. My Sarah Loh.
I began dance training at the age of four when my mother introduced me to ballet class. I studied the Royal Academy of Dancing syllabus until 2004, then began dance as an elective for my NSW School Certificate. That one year was spent exploring dance styles outside of ballet, and my understanding and appreciation for dance as an art form, and a method of self expression increased dramatically. I now take classes in Classical ballet and Lyrical Jazz at the Sydney Dance Company.
I never considered dance as a serious career path, thinking such a professional most likely unsustainable both financially and physically. Instead, dance is a form of recreation; it breaks up the monotony of continuous study, while still pushing me to be my best. It keeps me fit and supple. This in itself is reason enough to continue to nourish me both in mind and body. Dance gives me a sense of serenity and uplift, especially grande allegro (the big jumps) and port de bras (carriage of the arms), the music carries me and I usually finish a class, rehearsal or performance exhausted but invigorated also. The range of emotions that need to be adopted and expressed as one's own provide a release from daily stresses to explore a different set of feelings and return later with a better sense of perspective and a higher probability of finding viable solutions.
Dance is hard work. Ballet even more so yet this adds to the appeal. When you exercise the determination to succeed, to give everything you have to achieve that perfect arabesque, there is a divine sense of achievement when you finally create something that is truly beautiful.