Better Decision Making in an Ever More Complex World – ADIPEC 2015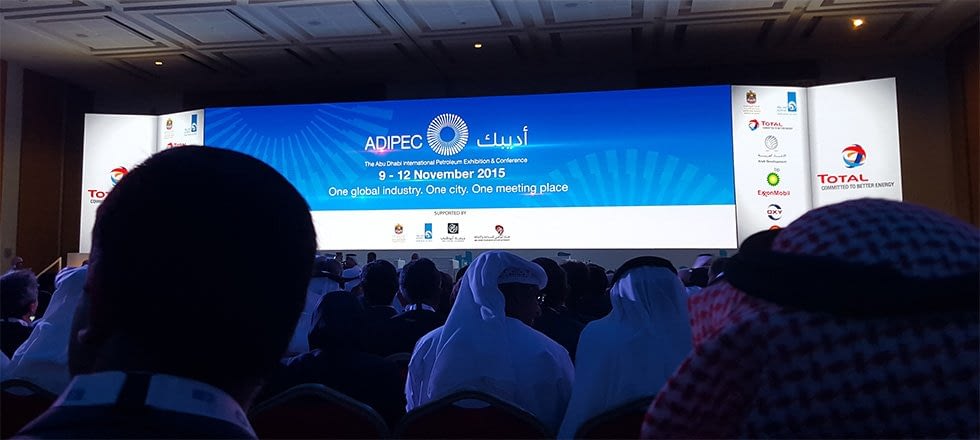 Jill presented a technical workshop at the Abu Dhabi International Petroleum Exhibition and Conference (ADIPEC) held in Abu Dhabi in November 2015. The theme of the conference was Innovation and Sustainability in a New Energy World. ADIPEC is now the world's largest oil and gas exhibition with over 2,000 exhibitors and plays host to 85,000 attendees and 7,000 delegates.
"So many of us needed to hear about the impact distractions have on decision making" — Feedback from attendees
My paper, Better Decision Making in an Ever More Complex World was chosen from 2,278 submissions from 540 companies across 65 countries. It was one of the few selected for inclusion in the People and Talent category to be presented in 80 technical sessions over the four days. Other categories included E&P Geoscience, Unconventional Resources, Field Development, Drilling and Completion Technology, Projects Engineering and Management, Gas Technology, HSE and Operational Excellence.
The extract for the paper is included below and the full paper can be obtained from the Society of Petroleum Engineers.
Presentation abstract
The oil and gas industry has the opportunity to guide its collective intellects in innovative practices that grow sustainable industries. Thinking differently can further contribute to world economies and communities.
This paper is intended to stimulate debate, raise some intriguing questions and encourage in each of us the willingness to do and see things a little differently. Three key areas are discussed in the context of making better decisions in an ever more complex world:
Why we need to ask the right questions
Why we need to discipline distractions
Why we need to create a conducive environment for decision making.
The result of multitasking, heavy multimedia usage and our world of ubiquitous distractions is having a negative impact on thinking. It takes effort to make the time to think deeply and to discipline our distractions. It is at our peril that we ignore the evidence and merely accept the velocity of our professional worlds and demanding lifestyles.
The complex and the ambiguous abound in the petroleum industry. These elements dictate a depth of thinking and intellectual dexterity that can inspire creativity and capitalize on technology. Research shows that despite sophisticated technology, the human brain remains pivotal in interpreting the practical and the nuanced. The field of neuroscience proves taking care of our most important asset, our brain, is imperative to being more effective in decision making. There are some simple actions we can all take, like walking briskly, that will improve judgment and outcomes.
Our brain may be changing due to the constant use of technology and the distractions it provides. Studies show workers are interrupted every 11 minutes, they self-interrupt 44% of the time and handle interruptions immediately 73% of the time. Such disruptions come at a high cost to ourselves and our business, especially when risk mitigation is compromised. Choosing how and when to be interrupted is necessary if we are working on an important task so that mistakes can be mitigated. We are immersed in an environment that is data-rich yet attention-impoverished. We need to be judicious about the interruptions we allow and how we deal with them. Aspects are explored with recommendations for daily practice that will improve decision making.
"Your presentation was refreshingly different and an important voice for this conference"
About ADIPEC 2015
The exhibition is under the patronage of His Highness Sheikh Khalifa bin Zayed Al Nahyan, President of the UAE. It was inspired by UAE leadership's commitment to make 2015 the 'Year of Innovation'.
The exhibition was supported by 15 national oil companies and an additional 15 international oil companies including ADNOC, Oman Oil Company, Kuwait Oil Company, Qatar Petroleum and Saudi Aramco represented alongside BP, ExxonMobil, Shell and Total.